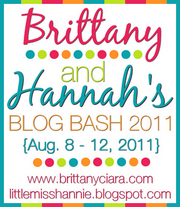 Brittany's wonderful blog bash is back! I almost fergot it was going on until I was reminded by my good friend
Angel's blog bash post...
Check it out if you want...
I'm not sure everyone knows me yet. So allow me to introduce myself.
I'm Cluttered Brain. The zany funny blogger who LOVES to vlog and sing and dance and entertain others....I am currently a CNA (certified nurse assistant) and I am in the process of going back to school and getting my RN....I WILL do it.
This is me....
I'm surprised I could find a halfway decent pic of myself....bwahahahaha.
And now on to some of the questions....
1. What's your favorite memory from summer 2011?
Probably getting my job at Coral Desert. I know it sounds lame but I really LOVE my job. I'm crazy like that. ;) And of course swimming with my girls almost every day....
2. What's my dream summer vacation?
Probably a cruise taken with my honey. One with the kids and one WITHOUT....Ahhhh...relaxing.
3. What's your favorite thing to do in the summer?
to RELAX with my girls and hubby.
4. What's your blog goal for 2011?
Just to blog. To find enough time to blog, parent, be a wife, work full time and perhaps buy my own domain...
5 .Let's hear the story behind your blog title? ;)
I'd say its pretty obvious. I am cluttered galore with thoughts, stories, to-do lists. blog posts, EVERYTHING....my mind races with all sorts of ideas...And it leaves me feeling cluttered most days. MY cluttered thoughts also lead to most entertaining blog posts though...not to mention Skype phone calls....
And that's me in a nutshell. What about YOU?
Come join in on the fun! It's fun and easy...and
Brittany throws wonderful blog parties....
(and her friend Hannah too...I don't know Hannah very well but if she knows Brittany then I'm sure she knows how to throw a good party...;)