These are the parts to a normal car alarm. EXCEPT my car has a gremlin. Ugh.
Car alarms. Ugh. I have a story to tell.
I had a busy day yesterday. I had to go to the post office, drop off an application to the city offices for employment and get a couple of gallons of milk for the kids. I finished up my business (NO, I was not taking a dump) at Wal-mart and headed out to my car. I stuck my key in the door to open it and it happens.
BEEP! BEEP! BEEP! BEEP!
Stupid blasted car alarm! So usually when I stick the key in the ignition it stops the car alarm. NOT this time though. It continued to blast the sirens. AND it would not let me drive my car. The car alarm stalled the engine of my car.
Ugh.
I decided to walk home and let my husband deal with it.
Halfway home I got an idea. My friend lives about halfway home between Wal-mart and my house. I stopped at her house to see if she could take to finish up my errands. She was home!
We stopped by the post office to drop off my letter. Then we proceeded to Wal-mart to get milk. My friend suggested we play around with the car a bit more to see if we could get the car alarm to stop.
(I did leave the car with the alarm off. Finally. After 15 minutes of the obnoxiousness.)
When we got to Wal-mart I went over to my car. I opened the door, (no car alarm) and put the key in the ignition (no stalling)...whew. My car works. BUT for how long?
I went inside to get my milk and hot spicy cheetos (I have an addiction) and went home. My sweet friend decided to follow me just in case my car decided to act up again.
And guess what? It didn't act up. In fact the car has been taken out on 4 separate occasions since the blasted car alarm event and nothing. I think a gremlin got into my engine and caused the car alarm to pester my day yesterday.
All is well.
Finally.
Oh, and I'm posting a picture today that makes me happy.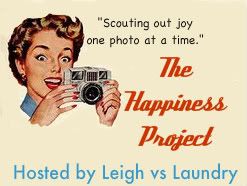 My Dad. He is goofy just like me. (That's where I get my goofiness from.) This is a picture taken of us while he was here visiting me last week.
I love my Dad. He's great.
Apparently I couldn't stop laughing and my Dad is just a cheeseball. lol.
What is making you happy right now?