This is MY first week participating in Leigh's Happiness project. Rules are you are just supposed to post a picture of something that makes you absolutely HAPPY! And I did. Believe you me, I did. :) Can you guess what makes be happy? Post your answers in the comments below! Thanks! :)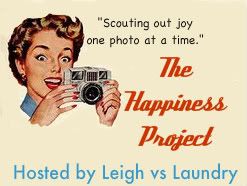 Comment LOVE @ Kerri's Klutter
I'm going to start off with a picture that makes me VERY happy indeed. I feel sexier and confident and Beautiful when I keep up on this.
So without further ado, Here is my happiness:
Can you guess what I had waxed yesterday? :)
And since I am double dipping today, here is my comment love letter from all of you. Taken from everywhere. :)
Dear Cluttered Brain,
I really think "twitter party" should have a better name... y'know, like the Tweeps thing... hmmm - party, shin-dig, bash... Twash is weird, Twarty just sounds WRONG, and Twin-dig is... well, it just doesn't work for me - sorry!whatever - I'm in for the as yet un-named event... nights are a little tough for me around here being as I'm supposed to be a responsible wife and mother - but I can sneak in some twitter time (twime?) shoot, I'm no good at this naming thing!
All about it!! Friday or Saturday are good for me.It will lesson the sting of my BlogHer-less-mess.You rock!
omg i remember jelly shoes I had like 10 pair in all different colors :) haha!oh & booger booger booger... sorry I just had to do it!! I will refrain from the word booger from now on.. :) LMAO!
"Can you hear me NOW?!"
Hi, just came over to wish you well in the trophy contest and tell you that I did enjoy your vlog and your post. The real prize is being included with awesome posts like this one.Nice to meet you.
"My favorite meal....BRAINS"!
I will definitely keep them in my prayers! I love the footprint in the sand prayer, too. It's really meaningful!
What a sweet tribute to your mom. We have big shoes to fill, don't we?
why does that asian guy stalk you?? Anyway, adorble pic of you guys! what a cutie you are...
<--This is my favorite because like every day I get the same comment from him in Japanese. Well, it could be the same, who knows? Do I look Japanese or Chinese to you? LOL.
Love, from your readers! :)
Thanks for the prayers last week for my friend Angel's mama. She is doing somewhat better but having a hard time with memory loss.
Hope y'all have a super Tuesday! Eat some chocolate or something. And T, if you are reading this, eat some peanut butter. :)