What does this above picture have to do with this post? Probably nuthing, but EVERY blog post needs a picture right? :)
Well, Well, Well...
Have you ever just had SO much on your mind you just don't know where to begin?
Yup, that is totally me this morning. I have several things I need to discuss with you all this morning.
So first off, I am participating in
Cat's
120 mile challenge. Yup, this here body is going to get into shape!!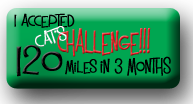 Next off the list, Did you happen to notice my nifty banners on my sidebar?
You didn't?
Well you can take a look. They are over on my sidebars.
(Psst, they are the Screaming coupon banners...)
I'll explain a little about it to you guys.
Basically, it is a bunch of sweet deals you AND your family can participate in this summer.
Screaming Coupons
is great! The deals are low cost and everything!!
They currently offer deals in UT and CA.
Are any of my readers in UT and CA?
If you are, please make sure you check out the deal of the day, OK? :)
Next on my list this summer, besides lose weight, is Momschool.
My kids will NOT be bored this summer.
I have created summer school taught by me! My kids will brush up on their writing, math,reading, science and social studies skills. We can take field trips. Mom school promptly starts at 10AM and ends at 2PM. (It might end later if I feel like it.) My kids will NOT become TV zombies.
Yesterday was the first day of Momschool. And you know what? I hardly had to deal with any arguing. You know why? My kids need routine. And I am giving it to them. (Momschool is even good for me, 'cause then I won't sit and blog and tweet all day.) *sigh*
Even though I might want to.
I think that is all. Cat's challenge, Momschool, Screaming coupons, OH...One more thing.
My awesomest blog pal,
Serene
is starting to get more active on facebook. She has the MOST adorable and funny blog. You really just have to love her. I think you ought to check her out now.
And then there is one other gal who you all must meet.
You might want to get her to buy your lottery ticket for you. She is very lucky.
And that is Tauna from
Garden of Egan.
Her posts are so funny and I crack up every time I read her.
And she makes chocolate. Homemade. Mmm. Yummy huh?
That's it. That's all I can blog about right now. Kids are up, breakfast needs to be made, Momschool needs to start, kitties need to be fed and I need to stop blogging. :( It is so sad when a woman can't just blog all day long isn't it? I'll be back soon to comment on your loverly blog, don't you worry.
In the meanttime, leave me a comment and a
tweet,
and I'll get back to you.
K? :)
Have an awesome day you guys!! :) Muah!!! Thanks to all you NEW followers who just joined. I will try my hardest to keep you entertained!!!! :)