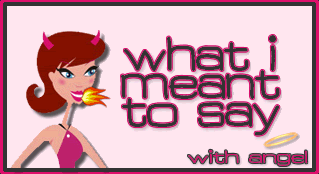 What I meant to say--It's time folks. Here is my version of What I meant to say:
When I tried to make conversation with the lady next door at the pool (
Who BTW is the ONLY person who does not like me over there, she lives with her mother and 4 kids Plus her longtime male friend WHO she does NOT have a relationship with he just watches the kids while she works)
: "So, Hi. How ya doing today?" She says, "Fine." and then looks the other way.
What I meant to say to the lady who has a beef with me AND I couldn't care less
: "Listen, I HAVE NO idea why you don't like me. I think it is because everyone ELSE likes being around me and for some reason you don't. Why is that? Is it because your son happens to like my daughter? Is it because I sometimes give your son an after school snack (along with my daughter) and talk to the both of them about how their day was? I DON'T know what you problem is lady, but get your panties OUT of a wad and talk to me. You might just find out we have something in common! Do you like having friends?"
When the state calls me back to ask why I haven't reported the income to them (I am receiving Food Stamps to help off set the bills we have) I said, "I did fill out the forms. And sent them back to you the very next day." Lady says with an attitude, "Well we didn't get them. So you didn't send them in. If you would have sent them in you wouldn't have been denied the benefits."
What I meant to say:
"Lady, I don't KNOW who does the mail over there OR files the paperwork but he/she is obviously incompetent. I sent the forms in, What else am I suppose to do? Sheesh. Don't get AFTER me or tell I was unwilling to cooperate WHEN you screwed up and lost the forms."
And lastly, To all the 11 year old boys that keep coming around the house because you think my 11 year old daughter is cute: What I say: "Hi, Nice to meet ya. You go to the same middle school as her? That's cool." *make nice small talk*
What I meant to say:
"I've got MY eye on you. Don't mess with me. If you hurt MY daughter you mess with me too, K? OK? You get me? Good. Very good. You can hang out here ALL you want, you are just NOT taking my daughter elsewhere you understand? She is only 11 by the way..."
And that is WHAT I had to say today. I feel a TON better now. Ahh. Free therapy. Gotta love it. ;) Right? Join UP today!